In response to the questions of how to open a web page, you can start off via wordpress or by purchasing a ready-made web page. You can find answers to many different concepts and questions that should be known before doing these operations, in the following article, and you can learn how to open a web page.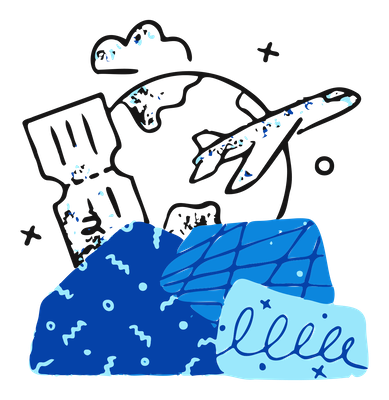 In response to the questions of how to open a web page, you can start off via wordpress or by purchasing a ready-made web page. You can find answers to many different concepts and questions that should be known before doing these operations, in the following article, and you can learn how to open a web page.
What are the Requirements to Build a Web Page?
When you want to create a website for yourself or your business, you need to understand two basic terms: domain name and Hosting these are two important concepts. We can define these two important stages as the technical structure of the website; It includes specifying the name/address of your site, registering it and renting the space where your site will be stored. After these processes, which take about 10 minutes in total, you need to set up a platform called CMS, which you will use to add your content to your website. Finally, with the help of themes and plugins, you can give your website the features and look you want. Anyone who does not understand web design can easily open a website in a few minutes. In short, three basic components are enough to create a website:
What is Domain (Domain Name) and What Does It Do?
The domain name is known as the general address and name of the website you will set up. This address, which is used by those trying to find your site to enter your site, is also called domain. A domain to be purchased costs people an average of 100 Turkish Liras per year. If you want to have a web page for your business that you manage, it is a recommended practice that the domain name you will receive is the same as your company's name. If you are planning to set up a personal website for yourself, you can use your first and last name as a domain name. When registering a domain name, it is not enough to just specify a name for your website. In addition, you should decide to choose the part of your website address called the extension, such as .com/.gov/.net, and finalize this part. If your target is international visitors, a "public" domain name such as .com, .net, or .org is considered a more appropriate choice. If your target is visitors living in a certain country, using a "local" domain name extension such as .tr .de, .fr or .ru is one of the elements that will make you stand out more than the region you are addressing.
What Is Hosting And What Does It Do?
The technical infrastructure service that makes your website accessible and always active is called hosting. Hosting concept; It ensures that your site files are hosted on the server and that your content is displayed every time you click on your address. The strong hardware support provided to the servers of most sites on the Internet is often provided and carried out by a hosting company. For this reason, we can also define hosting as renting space on the server for your site. Hosting packages or hosting plans; are data containment solutions designed according to the purpose of each site and considering the demand for different server resources. Hosting package; It includes email accounts with different continents specific to your domain and server resources of different sizes such as RAM, CPU, SSD disks.
What Is The CMS Platform And What Does It Do?
When you register a domain name and purchase a hosting package, you are ready to open the technical infrastructure of the website, but you must also decide which tool (content management system) you will use to add content to be shown to visitors. Content Management System (CMS) is software used to prepare website content.
Many CMSs are available such as WordPress, Joomla, Drupal, Squarespace, Magento, Opencart and ready-made website builders. Let's quickly explain which one provides more convenience in website management:
The most recommended way to build a website without knowing coding: use a website builder or use a CMS like WordPress to build a website.
What is a Script to Open a Web Page?
The software that provides the physical appearance and infrastructure of a website is called a script. The content that the visitor sees, the admin panel managed by the site owner, various add-ons and changes made on the page are included in the script.
Scripts; It is possible by being written in various coding languages such as ASP and PHP. You can also think of these coding languages as the material used to build real buildings. A real building; If it consists of many materials such as reinforced concrete, wood and steel, many different materials can be used to create the website.
What Are By-Products Used For A Web Page?
It can be used for various by-products to build a website. While these products are not necessary, they can provide benefits when used.
Information About SSL Certificate
If it is installed on a website, it can be accessed using the "https" protocol. It is used to encrypt important information (for example, credit card information) that users enter when visiting your website. In this way, the data security of the visitors on your website is guaranteed.
Information About Security Modifications
If you are working with a reliable hosting company and using licensed software, you will not need these modifications. We find it useful to underline that even if you work with a reliable hosting company, you cannot prevent security breaches on the site if you are using unlicensed software.
Information About Caching Software
While beginner website owners may not need much, you will need caching software as the number of visitors and website content increases. Now, it's enough to know that such software exists. Because the subject you will learn when you get a job is exactly over this subject.
How to Set Up a Web Page with WORDPRESS?
WordPress is the most popular software in the world and is called CMS (Content Management System). It can also be expressed as "content management system" in our language. WordPress; It is software designed to create blogs without any coding knowledge. If you want to create a blog, you can easily create your own page with the help of Wordpress after the Ready Site Design tool.
WordPress; It is developed by volunteers and commercial developers over time and can be used on sites other than blogs. Nowadays you can use WordPress to make corporate websites, news websites, and even e-commerce websites. However, using WordPress to bring non-blog pages online may require some technical knowledge.
A smart and practical solution is to purchase a WordPress hosting package to host pages published using WordPress. Because the software, due to its structure, consumes server resources such as RAM and CPU excessively. In this case, visitors to your website; cause freezing and shrinkage problems. In WordPress hosting services, this resource consumption is relatively low due to the software installed on the server. People visiting your page are less affected by WordPress-related access issues. Additionally, when you get WordPress hosting, you don't waste time installing WordPress. With this service pack, your WordPress site is pre-installed. All you have to do is add content from the management screen, install the themes and plugins you want and add a nice look to your page.
How Much Does It Cost To Set Up A Web Page?
To publish a website, you only need to pay the domain and hosting fees. If you want to use CMS software such as WordPress and OpenCart in web page construction, you can easily bring your page to life without being charged an additional fee for scripts. If you want to take advantage of ready-made site installations, you can have a web page with a monthly fee of 0.99 cents.